History of the First Site
The First Site is the home where John, Priscilla, and their children moved soon after being granted 100 acres in the 1627 Plymouth Colony land division. The family lived there for approximately fifty years. During that time, John worked as a cooper and served Plymouth Colony in numerous leadership positions. He also was involved with the evolving colonial fur trade and acted as a land agent between colonists and Native Americans. Priscilla cared for their family, which grew to ten children.  She likely tended a family garden, milked the cow, and made cheese and butter.
At the end of the 1600s, the Alden family began construction on a new home, located approximately 300 yards west of the First Site.  This structure, now called "the Alden House," was home to seven generations of Aldens.  This house and the ground it stands on has never been out of possession of the Alden family – nearly 400 years and counting.  It is owned and operated by the Alden Kindred as a museum.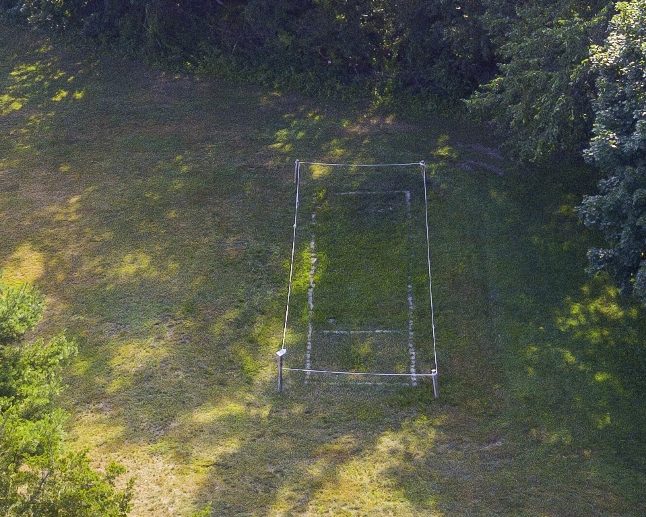 Image credit: Craig Drollett
Today the archaeological remains of the First Site are located on land now owned by the Town of Duxbury at the southern edge of the Duxbury School athletic fields. In 1960, the Alden Kindred of America, through the efforts of Alden descendant Russell W. Edwards,  contacted historical archaeologist Roland W. Robbins to investigate the site. The excavations revealed a foundation measuring about 10 ½ x 38 feet with a deep cellar hole under the western end.
With Robbins serving as the supervising archaeologist and Edwards as the local project manager, the two men and their team recovered a rich assemblage of early 17th-century and Native American cultural artifacts that continue to be studied today.
For a discussion of a possible earlier Alden house, see: McCarthy, Thomas. Alden, John and Priscilla, Family Sites. NPS Form 10-900. National Register of Historic Places Landmark Nomination and Registration Form, page 9.