Visit
Alden House Historic Site Museum Hours
Alden House is open for guided tours Wednesdays through Saturdays noon to 4 pm, June 1 through October 15 and at other times by appointment. Based on current CDC guidelines for COVID-19, a mask is a personal choice for visitors. Admission is $8 for adults; and $5 for kids and students. Members are free. Email director@alden.org or call 781-931-9092 for more information.
The Alden House gift shop is open for online purchases at The Alden Kindred of America Gift Shop.
The grounds are open year-round. Visitors are welcome to enjoy the heirloom gardens and explore the nearby Alden First Site foundation. A free cell phone tour will help you explore the Alden family story and more of Duxbury's rich Pilgrim heritage.
Directions
Alden House Historic Site and Alden Kindred Offices
105 Alden Street
Duxbury, MA 02332
From the South
South of Boston, from route 3 take Exit 22 (route 14, Duxbury exit). Drive east towards Duxbury. Follow Route 14, bearing right at the blinking light at the junction with Route 139. Go about one mile to stoplight at junction with Route 3A. Continue straight through the set of lights and take the next right onto Railroad Avenue. Follow Railroad Avenue to its end at Alden Street. The Alden House Historic Site and Alden Kindred offices are directly across the street.
From the North
Take State Route 3 south from Boston (Rte. 95 or Rte 128) to Plymouth and Cape Cod. Get off at Exit 22, the Duxbury/Pembroke exit. At the end of the ramp, head east towards Duxbury on Rte. 14. Bear right on Rt. 14 just beyond the Police Station. In about 2 miles, Rte. 14 intersects with Rte. 3A at a traffic light. Continue straight through the traffic light less than a mile until you come to a small group of stores. Watch for Railroad Avenue entering on the right just past Millbrook Market. Turn right onto Railroad Avenue which ends shortly at Alden Street. Almost directly across Alden Street is the entrance to the Alden House Historic Site.
Alden Original Homesite
The site of the original Alden home is located approximately 100 yards south east of the Alden House Historic Site. It can be accessed by foot through a trail located at foot of the Alden property by following a trail through the woods. Upon exiting the trail, the site is located beyond the athletic fields on a small ride of land. The site is marked with a large granite stone.
Discounts and Special Offers
Blue Star Museums Program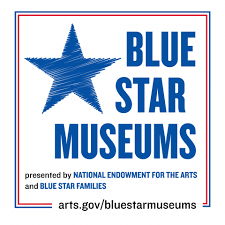 As a Blue Star Museum, we are proud to offer free admission for all active-duty, National Guard, and Reserve military personnel and their families from Memorial Day through Labor Day.
Duxbury Free Library
The Duxbury library offers free admission passes to library patrons for tours of the Alden House.
Card to Culture

Massachusetts EBT, WIC, and ConnectorCare Health Insurance Plan cardholders receive free admission for tours for two adults and any accompanying children when presented at check in.
New England Museum Association
Through NEMA's Museum Admission Program, NEMA members are admitted free of charge. Just show your NEMA card at check in.
Passport to History

Sponsored by the Old Colony History Museum, Alden House is participating in this program that unites many historical and cultural sites in Southeastern Massachusetts.  Participating organizations offer free admission for up to a group of four with the Passport booklet. Click here for more information. 
https://www.oldcolonyhistorymuseum.org/explore/passport-to-history/