ALDEN HOUSE HISTORIC SITE
GENEALOGY
The Alden Kindred of America has been forging connections with Mayflower passengers John Alden and Priscilla Mullins Alden for over 100 years. During that time we have helped thousands of families engage with their heritage through the exploration of the Alden genealogy. For more information on Alden genealogy click here.
Welcome!
Pauline Kezer, President, welcomes you to the Alden Kindred!
Candlelight Tours
Saturday, October 28, 5-7 pm
The sound of children crying; a scent of flowers; women descending the stairs only to disappear; and accusations of witchcraft. Will you discover the "spirits" of Aldens past on candlelight tours of the historic Alden House? Join costumed docents on a trip back in time to explore the spookier side of the Alden family history and early Duxbury on this fun and "illuminating" tour.
Something Magic is Brewing at Alden House
Saturday, October 21, 4-8 pm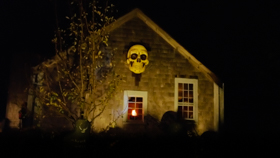 Ride your broomstick over to the Alden House for a spooktacular night of family fun. Enjoy frightfully haunted tours of the historic Alden House, monster mash disco, face painting, kids' games and activities, maze, and haunted trail walk. Admission is $6 per person. Refreshments for sale.